The origins and development of the Foundation

Biocultural preservation efforts at Sayama hills have been in place since the 1970s.  As a result, most of the natural habitats in the hills have been protected.  However, due to urban and leisure facility development, destruction of the habitat, through deforestation and illegal dumping, is clearly visible.
 
In April of 1990, with the objective of preserving the lush nature of Sayama Hills to future generations, the National Trust of Totoro no Furusato was born.  Due to the efforts of 5 initial contributors, including film director Hayao Miyazaki, a large amount of donations were received from all across Japan.
Sayama Hills is known as the inspiration of Mr.Hayao Miyazaki's animation masterpiece, "Tonari no Totoro (My Neighbor Totoro, 1988)".  The Trust Fund was named in its honor.
 
In August of 1991, the first land acquisition "Totoro no Mori (Totoro's Forest) #1" was made with the used of donated funds.  "Totoro no Mori #2" was acquired in April 1996.
In May of 1996, a membership club system that would help fund and support our efforts was established.  At the same time, we began publication of the newsletter "Totoro no Mori kara (From Totoro's Forest)".
In April of 1998, The National Trust of Totoro no Furusato was incorporated as the "Totoro no Furusato Foundation".  In later years through October of 2003, 4 more land acquisitions were made, for a total of 6.
In 2002, we were awarded " Environment for Tomorrow Prize- Special Award for Forest Heritage-" by the Asahi Shimbun Company.  The prize money of 1 million JP Yen from the award was used to purchase equipment and educational materials for nature observation.  We began a program to lend these materials to schools.  In 2006, we were bestowed with the City of Kitakyushu's Environment Award.

As of 1st April 2019, a number of land increased up to 49, about 89,689 ㎡ in total. A number of visitors also increased rapidly coming from not only Japan but also all over the world.

---
We are actively seeking support in the following areas:
・Monetary donations: Your donations toward acquisition of new land sites and other activities of the Foundation are graciously accepted.
・Volunteerism for maintaining Sayama Hills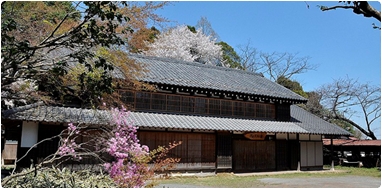 Office of Totoro Fund

---

Access Information

By Rail
Seibu Railway Ikebukuro line and Seibu Railway Shinjuku line bring visitors into the heart of the Sayama region each day. Kotesashi Station on Seibu Railway Ikebukuro line is two stops away from Tokorozawa Station and connects to the buses bound for Waseda Daigaku (Waseda University) and Miyadera-nishi. Kurosuke no ie (House of Kurosuke), a base for visitor, is about 5 minutes walk from the bus stop "Dainichi-do".

By Road
Several highways including and Keno-do (Keno-Express way), Highways 16 and 463, link surrounding cities to Sayama Hills.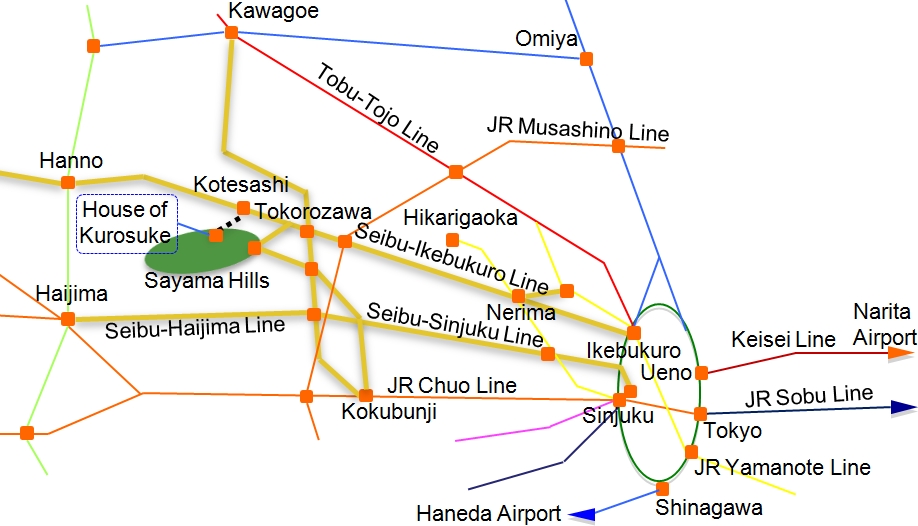 *15 minutes by bus from Kotesashi Station on the Seibu Railway Ikebukuro line and 5 minutes walk from Dainichido bus stop on the Sebu Bus line.
*15 minutes by bus from Sayamagaoka Station on the Seibu Railway Ikebukuro line and 10 minutes walk from Mikajima-chugakko bus stop on the Tokorozawa City Bus line.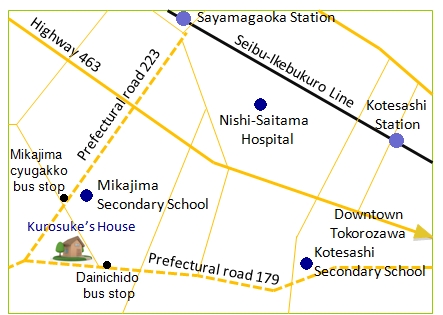 * Visitor center at Kuroske's house opens from 10:00 to 15:00 on Tuesday Wednesday and Saturday. Public holidays, year-end and new year holidays are closed.
* Temporary closig date: please contact secretariat at office@totoro.or.jp
* No parking lot in the Kurosuke's House.